Hotel Puy du Fou
La Chaumière, restaurant and 3-star hotel in Vendée
Welcome to the La Chaumière hotel and restaurant in Saint-Laurent-sur-Sèvre in Vendée, 10 minutes from Le Puy du Fou® and Cholet
New: Quick access to the restaurant's menus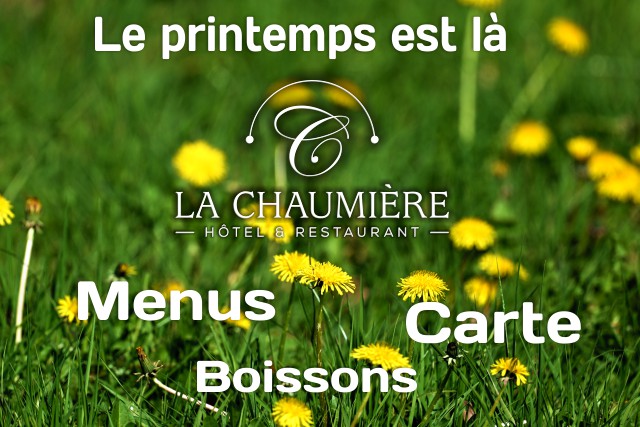 La Chaumière is part of the network of Logis de Vendée hotels and restaurants in Saint-Laurent-sur-Sèvre and combines comfort and modernity in an authentic and relaxing atmosphere. Relax in comfortable rooms with quality bedding, free Wi-Fi and flat screen HD televisions with Canal+ and RMC sport channels 1-2-3-4.
We will do everything to make your stay in Vendée as pleasant as possible. Our 3-star hotel has 18 rooms 10 minutes from Le Puy du Fou®, Cholet, 20 minutes from Les Herbiers or La Séguinière, with affordable, great value prices. Wi-Fi internet access in all rooms and the restaurant. Heated swimming pool and large wooded park.
Reception opening hours: Monday to Friday from 7 am to 9 pm
Saturday from 8 am to 12 pm and from 5 pm to 10 pm
Sunday from 8 am to 4 pm (closed in the evening)
Sunday evening : please notify us for any arrival after 5 pm
Breakfast : Monday to Friday from 7 am to 9 am
Weekends and public holidays from 8 am to 10 am
10 double rooms with showers or baths. 4 triple rooms with bathtubs 4 quadruple family rooms with bunk beds for children. Bedroom with double bed and bunk beds, large bathroom with bath. Great value hotel, from 59 euros per night. Ideal for a stay close to Vendée amusement park.

Hotel accessible for persons with reduced mobility (room 22).